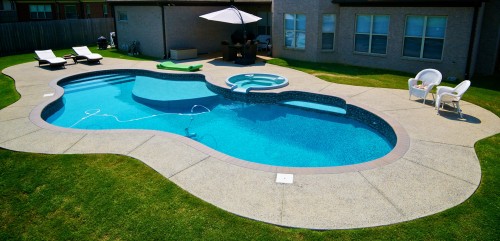 We are the Utah Valley's best choice for remodeling and replastering your indoor or outdoor pool or spa. With 1000's of pool remodels under our belt, our team has the knowledge and expertise to improve the aesthetics of your pool or spa while enhancing your enjoyment.
Remodel Your Indoor or Outdoor Pool
Whether you are looking for a simple replastering of your existing pool, or are looking for a complete makeover of your indoor or outdoor pool area, we can help bring your dreams to beautiful reality. From simple additions to increase the dramatic effect, or if you are looking to add a jacuzzi/spa to your existing layout — let us help design the perfect plan for you.
Beyond Pools & Spas
Beyond  the traditional pool and spa upgrades, additions of other water features are a fantastic way to improve the look and feel of your indoor or outdoor pool areas.
Need More Info?
If you're looking to get more information on our pool construction and pool remodeling services or are ready to start the pool remodeling process, simply fill out our information form here and we will get in touch with you shortly!